Achieve Your Goals in Our North American Locations.
Phillips 66 offers a variety of locations across the Americas. In the U.S., you'll find our corporate headquarters in Houston, Texas, and a major facility in Bartlesville, Oklahoma, which houses our global IT operations, research facilities and pipeline control center. We also operate refineries in various locations throughout the U.S. In Canada, we have an office in Calgary that supports our operations in that country. Whether you are working at a large location like our headquarters, or a smaller facility, you'll find the same commitment to collaboration, a friendly, family-oriented environment and many opportunities to grow your career.
Houston, TX
Phillips 66 is headquartered in Houston, and this location offers career opportunities in many areas of operations that impact our entire organization. Our corporate headquarters is built on 14 acres in the city's Westchase District. The facility includes a cafeteria, fitness center, coffee shop and conference center, as well as a running track on the roof of a garage, a soccer field and multiple dining options.
The fourth largest U.S. city and home to over 5,000 energy-related firms, Houston is considered the Energy Capital of the World. Houston offers a strong economy, dynamic art and culinary scenes, multiculturalism and sports attractions for all.
Bartlesville, OK
Phillips 66 has a 440-acre campus in Bartlesville, Oklahoma, which is headquarters for our global IT operations. The site also houses many of our research teams in 44 research-related buildings, as well as other operations, such as our pipeline control center. In all, over 600 employees work at this site.
Located 45 miles north of Tulsa, Bartlesville offers the warmth of a close-knit community with the amenities of a much larger city. Home to 35,000, Bartlesville is a vibrant city rich in history, culture and resources that come from a town built around the oil industry. Recognized as one of the top 25 livable cities in the U.S., Bartlesville boasts lovely neighborhoods, excellent restaurants, charming boutiques and citizens who take pride in their community.
U.S. Refineries
Our refineries transform crude oil and other feedstocks into products such as gasoline, diesel and aviation fuel. Phillips 66 is one of the largest refiners in the U.S. and worldwide.
For more information, please visit Phillips 66 REFINING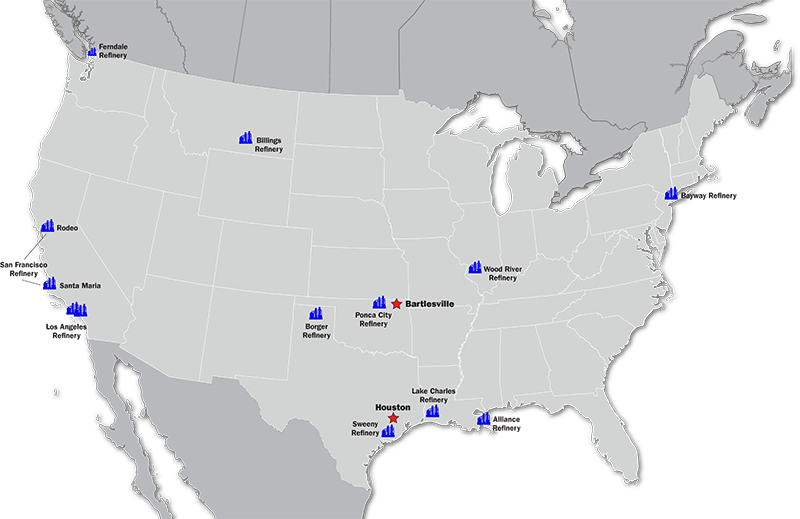 Midstream
The Midstream organization is all about leading the strategy for growing Phillips 66 through the adoption of the latest technologies and innovation. Phillips 66 owns or leases various assets to provide strategic, timely and environmentally safe delivery of crude oil, refined products, natural gas and natural gas liquids (NGL). We also participate in natural gas gathering, processing and delivery.
For more information, please visit Phillips 66 MIDSTREAM
Canada
Phillips 66 Canada, located in Calgary, Alberta, is the largest importer of Canadian crude in the United States. Roughly 400,000 barrels per day originate in Calgary, the majority of which serves U.S. refineries with Canadian crude. We purchase Canadian crude oil for both our refinery supply and opportunity trading. In addition, trading, scheduling and accounting functions surrounding Canadian crude are handled by the Calgary office.