DISCOVER A
WORLD OF OPPORTUNITIES

AT PHILLIPS 66.

Phillips 66 is an organization with a global reach that continues to expand. We have approximately 14,000 employees worldwide and are active in more than 15 countries. Two of our largest overseas locations are in the United Kingdom and Singapore. Our main hiring locations in North America include Houston, Texas, and Bartlesville, Oklahoma, as well as U.S. refineries and Canadian operations.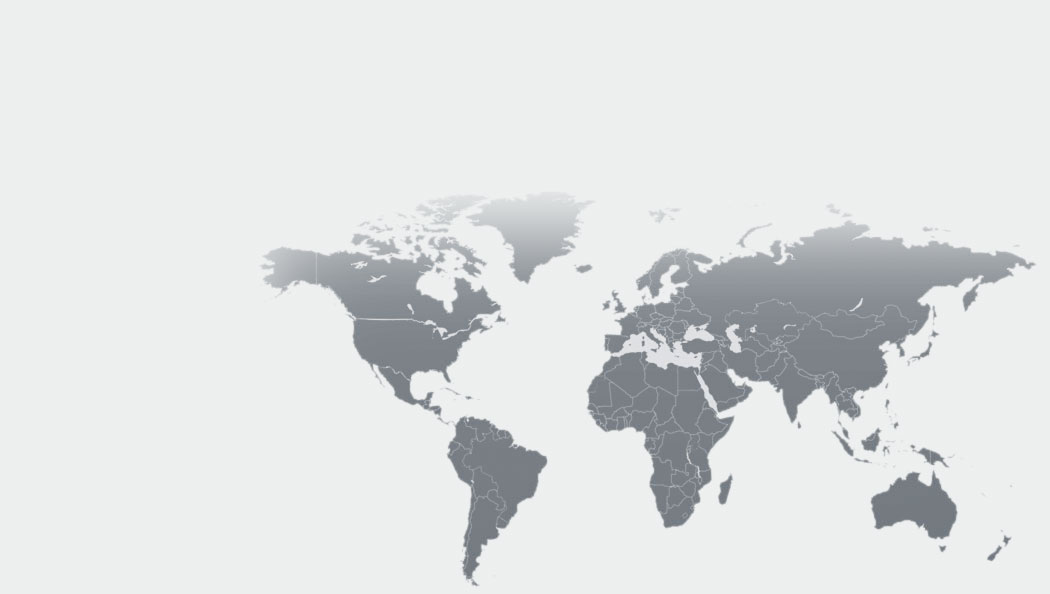 ACHIEVE YOUR GOALS
IN OUR NORTH AMERICAN LOCATIONS.
Phillips 66 offers a variety of locations across the Americas. In the U.S., you'll find our corporate headquarters in Houston, Texas, and a major facility in Bartlesville, Oklahoma, which houses our global IT operations, research facilities and pipeline control center. We also operate refineries in various locations throughout the U.S. In Canada, we have an office in Calgary that supports our operations in that country. Whether you are working at a large location like our headquarters, or a smaller facility, you'll find the same commitment to collaboration, a friendly, family-oriented environment and many opportunities to grow your career.
Phillips 66 is headquartered in Houston, and this location offers career opportunities in many areas of operations that impact our entire organization. Our corporate headquarters is built on 14 acres in the city's Westchase District. The facility includes a cafeteria, fitness center, coffee shop and conference center, as well as a running track on the roof of a garage, a soccer field and multiple dining options.
The fourth largest U.S. city and home to over 5,000 energy-related firms, Houston is considered the Energy Capital of the World. Houston offers a strong economy, dynamic art and culinary scenes, multiculturalism and sports attractions for all.
Phillips 66 has a 440-acre campus in Bartlesville, Oklahoma, which is headquarters for our global IT operations. The site also houses many of our research teams in 44 research-related buildings, as well as other operations, such as our pipeline control center. In all, over 600 employees work at this site.
Located 45 miles north of Tulsa, Bartlesville offers the warmth of a close-knit community with the amenities of a much larger city. Home to 35,000, Bartlesville is a vibrant city rich in history, culture and resources that come from a town built around the oil industry. Recognized as one of the top 25 livable cities in the U.S., Bartlesville boasts lovely neighborhoods, excellent restaurants, charming boutiques and citizens who take pride in their community.
Our refineries transform crude oil and other feedstocks into products such as gasoline, diesel and aviation fuel. Phillips 66 is one of the largest refiners in the U.S. and worldwide.
For more information, please visit Phillips 66 REFINING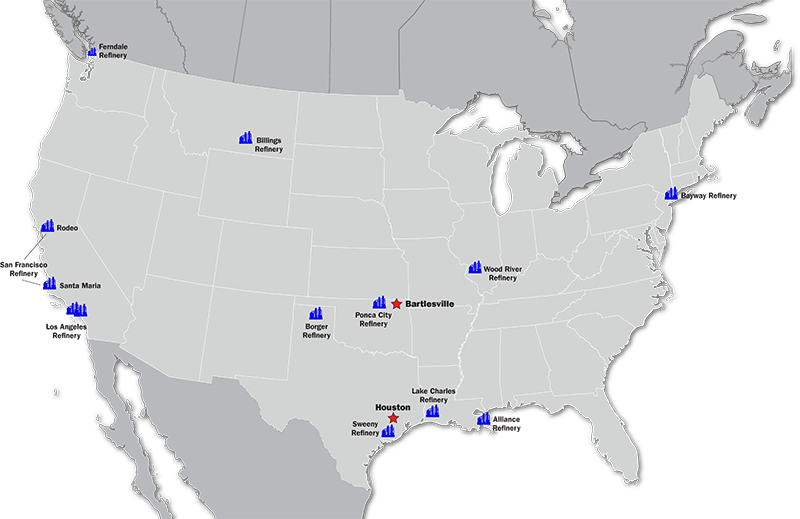 The Midstream organization is all about leading the strategy for growing Phillips 66 through the adoption of the latest technologies and innovation. Phillips 66 owns or leases various assets to provide strategic, timely and environmentally safe delivery of crude oil, refined products, natural gas and natural gas liquids (NGL). We also participate in natural gas gathering, processing and delivery.
For more information, please visit Phillips 66 MIDSTREAM
Phillips 66 Canada

Phillips 66 Canada, located in Calgary, Alberta, is the largest importer of Canadian crude in the United States. Roughly 400,000 barrels per day originate in Calgary, the majority of which serves U.S. refineries with Canadian crude. We purchase Canadian crude oil for both our refinery supply and opportunity trading. In addition, trading, scheduling and accounting functions surrounding Canadian crude are handled by the Calgary office.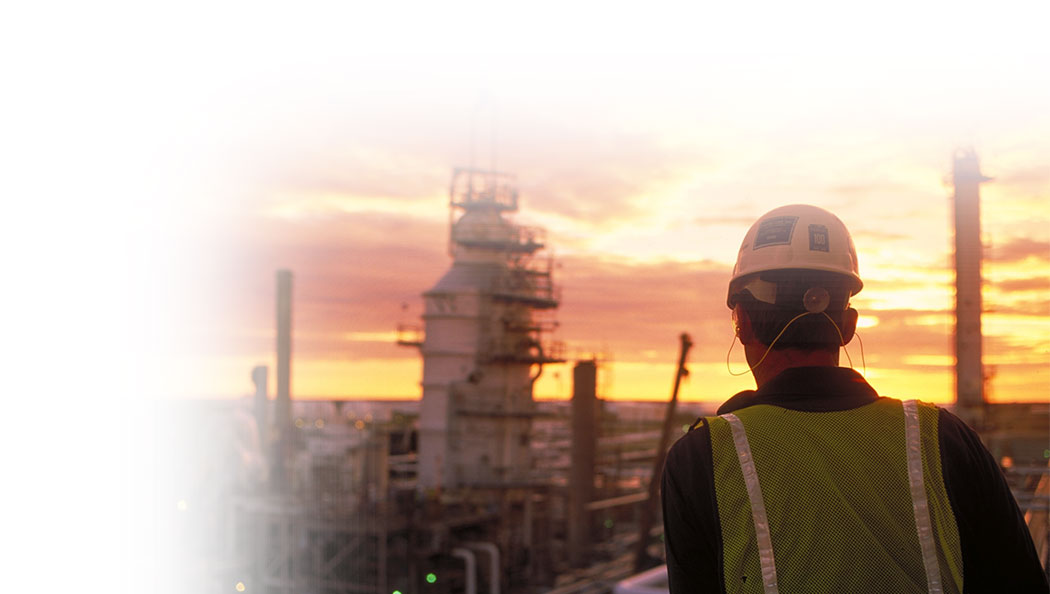 FIND AN

EXCELLENT CAREER

IN A STRATEGIC EUROPEAN LOCATION.

In Europe, we strive to build a high-performing organization in which people reach their fullest potential and highest levels of achievement. Recognizing that diverse talent and different perspectives help us achieve our vision, we aim to create an environment where diversity of thought and varied backgrounds are valued. We seek analytical thinkers with strong business acumen and the ability to offer strategic ideas, as well as team players who can work both independently and collaboratively.
The Humber Refinery is situated on the east coast of England, close to Lincoln and Hull and next to the seaside town of Cleethorpes. The Refinery covers 480 acres, processes some 230,000 barrels of crude oil and other feedstocks, as well as gasoline and diesel for transportation. Its state-of-the-art buildings also hold the U.K.'s cross-functional support groups such as Finance and IT. The Humber Refinery employs over 750 people, with an on-site gym and a host of sports and recreation clubs. The facilities include a lunch restaurant and a medical center available to all employees.
The London office is located at the central city location of 200 Aldersgate, a short walking distance from St. Paul's and Barbican tube stations. It is home to our Europe Commercial Group, which plays an integral part in managing the company's worldwide commodity portfolio. It also houses the headquarters for our European downstream business. Around 170 employees work in our London office. We have made great efforts to maintain an open-office culture and have designed an office space that enhances a collaborative working environment.
The Warwick office, which is situated in Shakespeare's County, Warwickshire, is close to the spa town of Leamington, with good transport links to London, Birmingham and Coventry. The Warwick office is home to UK Marketing (UKM), as well as shared services functions such as Information Technology and Human Resources. UKM is responsible for marketing fuel products through various channels, including our JET retail brand, wholesale markets and specialist markets, including marine, liquefied petroleum gas and aviation. The office itself is located in the Warwick Technology Park and has a fully open plan, creating a vibrant and friendly environment for approximately 120 employees.
JET successfully operates more than 750 service stations in Germany. Our car wash brand, StarWash, is one of the largest car wash operators. JET is headquartered in Germany's second largest city, Hamburg. This beautiful city, with its huge port at the Elbe River, is also known as Germany's "gateway to the world" and famous for its scenic harbors and diverse neighborhoods. Our modern office is located right in the center of the city. Around 220 employees enjoy the pleasant atmosphere and all amenities that a dynamic company and a cosmopolitan city have to offer.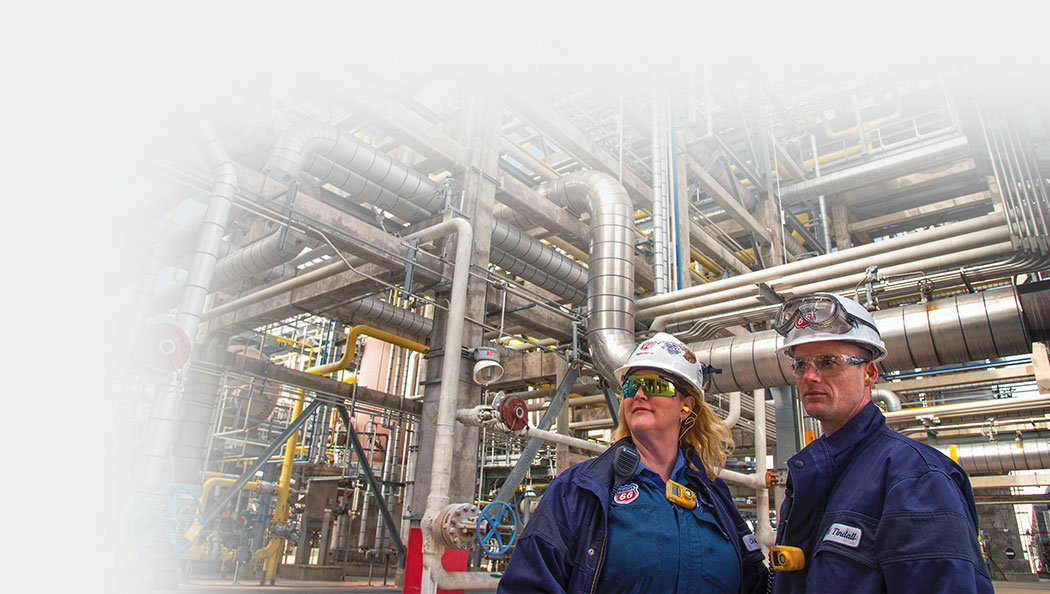 ENJOY AN

EXCITING CAREER

AND AN ECLECTIC CULTURE.

In Singapore, Phillips 66 is well placed to tap Asia's growth and further advance its international trading business. You will enjoy working in Singapore, a cosmopolitan city at the crossroads of Asia, with a population that has a rich mix of different cultures, lifestyles and religions. Members of our diverse, young and talented workforce are constantly challenged to reach their fullest potential in delivering results toward individual excellence and organizational success.

Our excellent orientation and on-the-job training will help you quickly assimilate into the company. In addition, we offer virtual training on the Phillips 66 Global Training website and subject-specific training, led by subject-matter experts. Employees can look forward to job rotations within and across functions, as well as overseas attachments and short-term job assignments to advance learning and career development. If you are driven, creative and committed to excellence, consider joining our team. Career areas at our downtown Singapore location in the Millenia Tower include:
Contract administration.
Finance.
Human resources.
Information technology.
Marine operations and chartering.
Market analysis.
Operations.
Risk and compliance.
Trading – crude and clean products.